28 year-old Hattie Boydle is the first ever Australian woman to win the World Beauty Fitness and Fashion (WBFF) World Championship back in 2016, but this is not anywhere close to where she started her fitness journey. As a matter of fact, Boydle actually started out with a very unhealthy lifestyle.
After a childhood filled with competitive gymnastics and national competitions, starting at the age of 4, Boydle has always had the drive to compete. However, life changed when she went through high school. After a personal tragedy, Boydle began to struggle with depression which led to an unhealthy lifestyle and she eventually faced "a long and hard battle against anorexia that took its toll."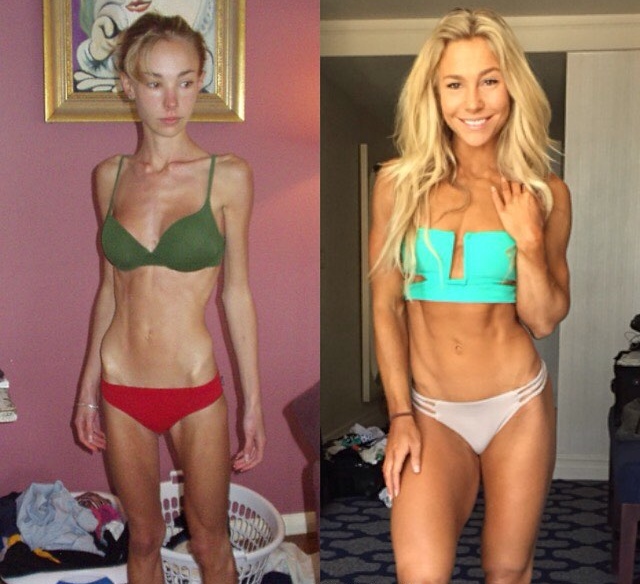 It was after Boydle had been hospitalized and placed in in-patient care that she decided she needed to make a change, and that change is astounding!Boydle now advocates body positivity and hopes that her story can help women who may be going through some of the things she has overcome.
Here's how she stays FIT:
Weekly Routine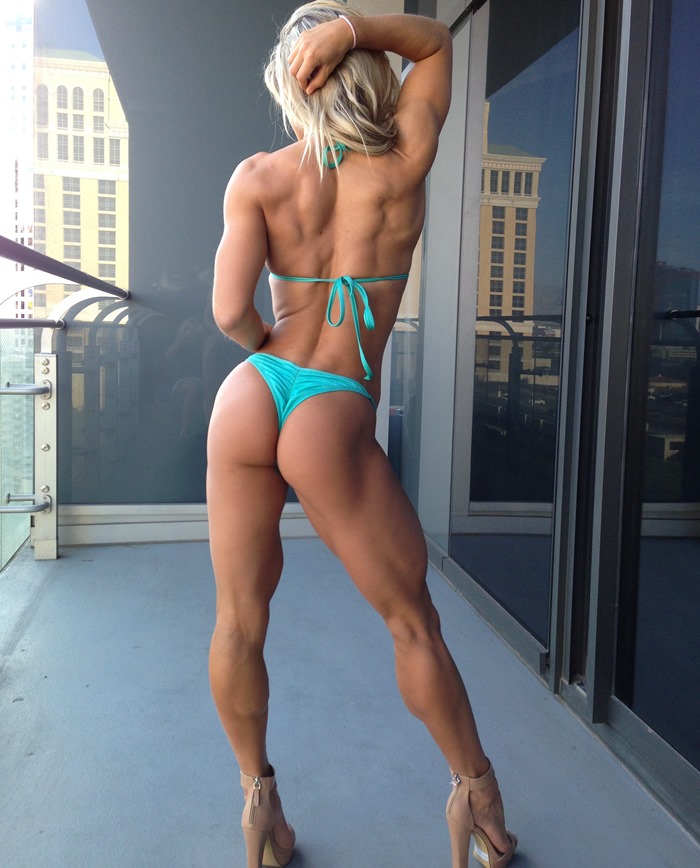 Monday: Legs/Back
High Bar Squats 5 x 5 (Superset)
Lying Leg Curls 5 x 8
Good Mornings 8 x 8 (Superset)
Back Extensions 5 x 20
Lateral Raises 5 x 12 (Superset)
Single Arm Rows 5 x 12
"I love making improvements on my own physique and then sharing it with my girls from The Sports Model Project. I am a firm believer in 'progress not perfection."
Tuesday: Legs/Chest/Cardio
Front Squats 5 x 5 (Superset)
Lying Leg Curls 5 x 5
Flat Bench Press 5 x 8
Face Pulls 5 x 12
Incline Dumbbell Press 5 x 12 (Superset)
Pendlay Rows 5 x 12
P.M./HIIT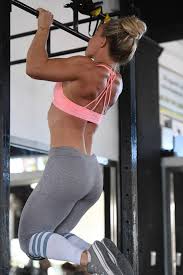 Wednesday: Legs/Back/Shoulders
Low Bar Squats 5 x 5 (Superset)
Lying Leg Curls 5 x 5
Good Mornings 8 x 8 (Superset)
Back Extensions 5 x 20
Lateral Raises 5 x 12
Single Arm Rows 5 x 12
Thursday: Legs/Chest/Cardio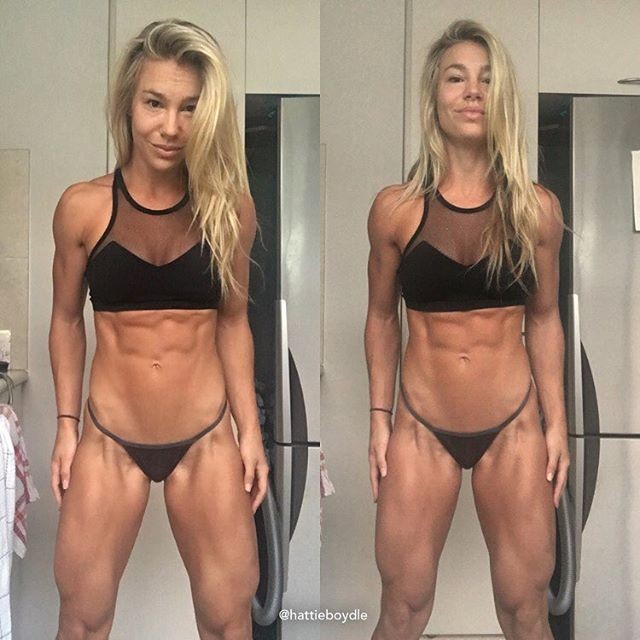 Front Squat 5 x 5 (Superset)
Lying Leg Curls 5 x 5
Flat Bench Press 5 x 8 (Superset)
Face Pulls 5 x 12
Incline Dumbbell Press 5 x 12 (Superset)
Pendlay Rows 5x 12
P.M./HIIT
Friday: Legs/Back/Shoulders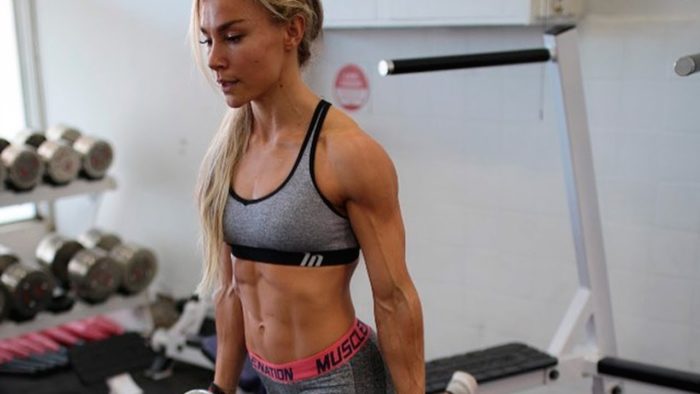 High Bar Squats 5×5 (Superset)
Lying Hamstring Curls5 x 8
Good Mornings 8 x 8 (Superset)
Back Extensions 5 x 20
Lateral Raises 5 x 12 (Superset)
Single Arm Rows 5 x 12
Saturday: Legs/Chest/Cardio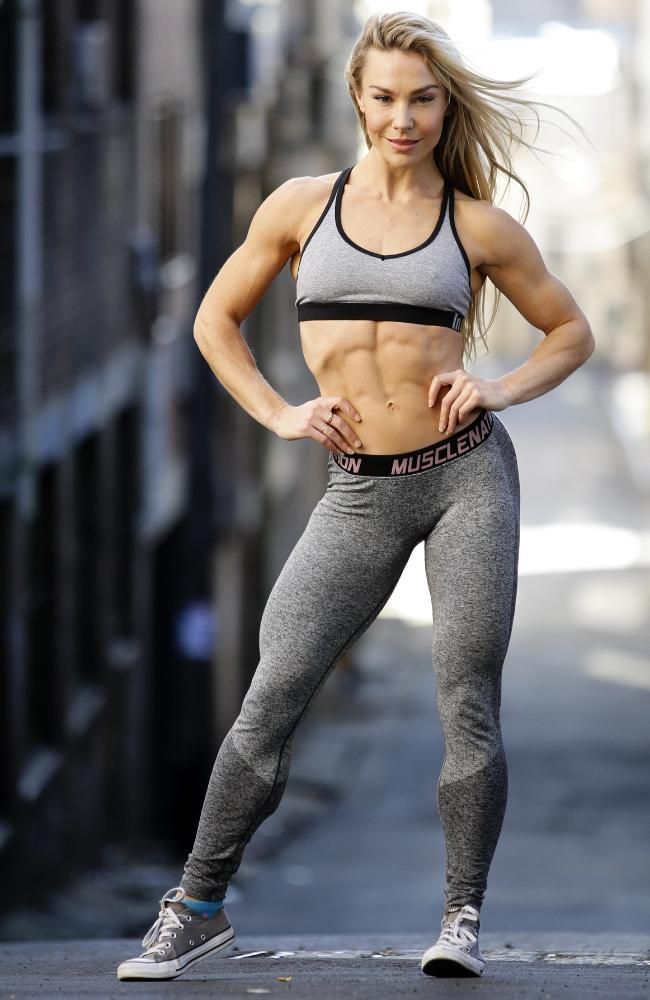 Front Squats (Superset)
Lying Leg Curls 5 x 5
Flat Bench Press 5 x 8 (Superset)
Face Pulls 5 x 12
Incline Dumbbell Press 5 x 12 (Superset)
Pendlay Rows 5 x 12
Sled Sprints
Sunday: Rest
Recovery
Dieting is just as important as the workouts. Here's how Boydle breaks it down: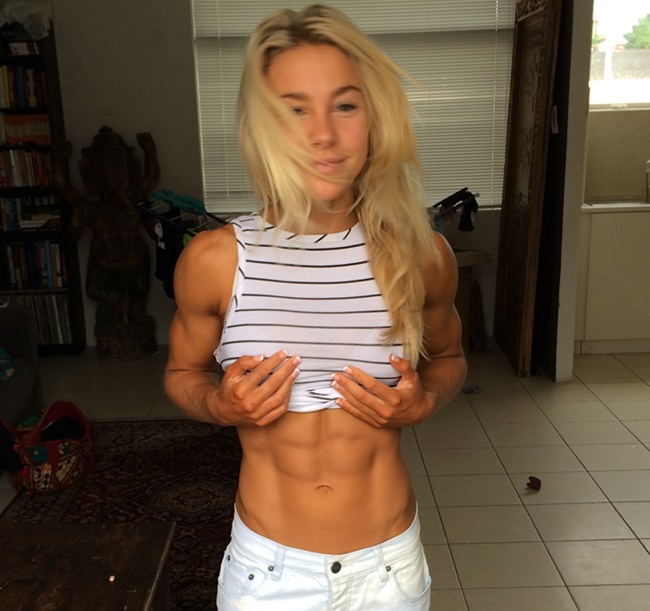 "Off season, my macros are around 160 grams of protein, 280 grams of carbs and 70 grams of fat. During contest prep my macros are around 170 grams of protein, 140 grams of carbs and 55 grams of fat. I have no restriction on my food, but I must meet my target goals daily."
Daily Diet
-Meal 1: 2 Poached Eggs, 2 Slices Soy and Linseed, 1 tablespoon Butter and 1 Skim Cappuccino
-Meal 2: 1 Scoop Whey, 1 tablespoon Almond Spread, 7 ounces Skim Milk, ½ Banana and Cinnamon
-Meal 3: 7 ounces Teriyaki Fish, 1 cup Rice, and 3 ½ ounces Mixed Greens
-Meal 4: 7 ounces Chicken Breast, 1 Apple, Piccolo Latte – Full Cream and Salad
-Meal 5: 1 Scoop Whey, 1 Apple and Water
-Meal 6: 6 ounces Rib Eye Steak, 5 ounces Sweet Potato Fries and Salad
-Meal 7: 1 ounce Chocolate
Take This Short Quiz to Find Out EXACTLY What You Need To Do To Get In Shape