Before his iconic role as "Wolverine", very few people knew about Hugh Jackman, but after he bulked up and made his appearance as one of the most recognizable characters in film history, everybody knows this Aussie kicks ass. If you want to get mutant strength like the Wolverine, here's how to do it.
He obviously worked out everything, shoulders, back, arms (definitely his arms), legs, you name it, but here is the workout program he used to become the Wolverine. In every workout he did, he usually kept his reps between the 8-12 range, but when it came time to build muscle he upped the weight and lowered the reps, from power clean to squats and bench, Jackman would greatly increase the amount of weight he would lift and lower the reps. Makes sense right? Lift heavier, get bigger.
Well here's the part of his routine that he said he benefited most from- after the heavy lifting, he would lower the weight and drastically increase his reps, almost to the point of each set being a super-set. This change in weight and reps are what really provided the best gains for the actor. If you don't believe me then take a look at some pictures of him when he was in the original X-Men and then compare them to some pictures from X-Men: Days of Future Past.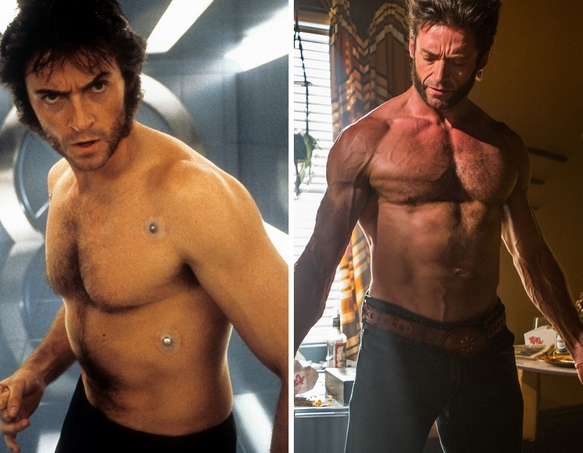 Now the moment you've been waiting for, The Wolverine Workout:
DAY 1
BARBELL BENCH PRESS – MEDIUM GRIP
-4 sets of 5 reps
DUMBBELL SHOULDER PRESS
-4 sets of 10 reps
STANDING BARBELL PRESS BEHIND NECK
-4 sets of 10 reps
CUBAN PRESS
-3 sets of 10 reps
*SUPERSET*
DIPS
-3 sets of 10 reps
TRICEPS PUSHDOWN
-3 sets of 12 reps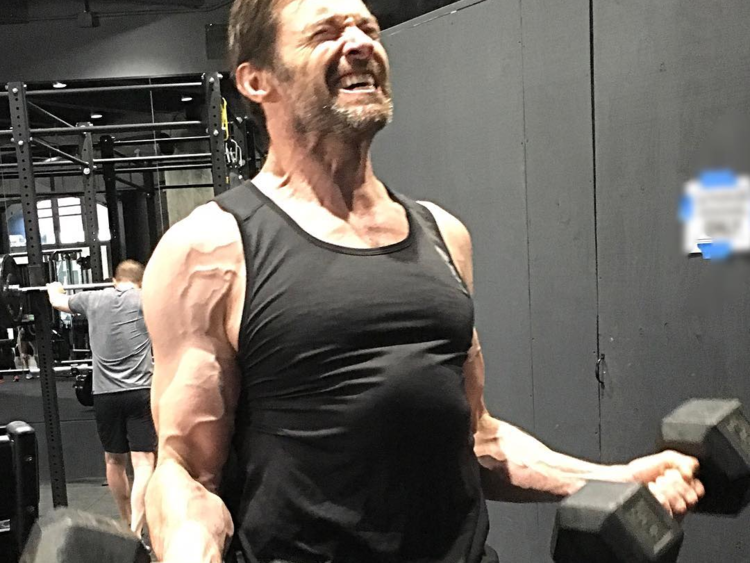 *SHOULDER CIRCUIT: 4 ROUNDS*
SIDE LATERAL RAISE
-8 reps
FRONT DUMBBELL RAISE
-8 reps
REVERSE FLYES
-8 reps
STANDING MILITARY PRESS
-8 reps
DAY 2
BARBELL SQUAT
-4 sets of 5 reps
FRONT BARBELL SQUAT
-4 sets of 10 reps
SINGLE LEG PRESS
-4 sets of 10 reps
*SUPERSET*
STANDING CALF RAISES
-4 sets of 12 reps
HANGING LEG RAISE
-4 sets of 12 reps
AB ROLLER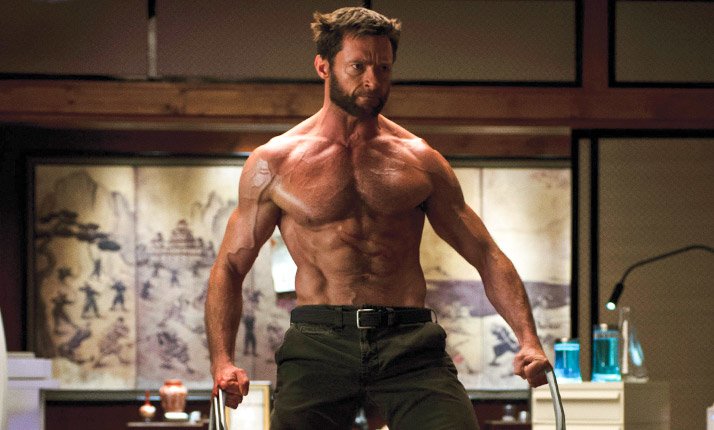 DAY 3
WEIGHTED PULL UPS
-4 sets of 5 reps
ONE-ARM DUMBBELL ROW
-4 sets of 12 reps
INVERTED ROW
-4 sets of 10 reps
INCLINE DUMBBELL CURL
-4 sets of 10 reps
*BICEPS CIRCUIT: 4 ROUNDS*
ZOTTMAN CURL
-8 reps
CROSS BODY HAMMER CURL
-8 reps
BARBELL CURL
-8 reps
DAY 4
INCLINE DUMBBELL PRESS
-4 dropsets of 6+6 reps
INCLINE DROP DUMBBELL PRESS
-4 dropsets of 6+6 reps
CABLE IRON CROSS
-4 sets of 10 reps
CLOSE-GRIP BARBELL BENCH PRESS
-4 sets of 10 reps
*TRICEPS CIRCUIT: 4 ROUNDS*
TRICEPS PUSHDOWN
-8 reps
DIPS – TRICEPS VERSION
-8 reps
NARROW PUSHUPS
-8 reps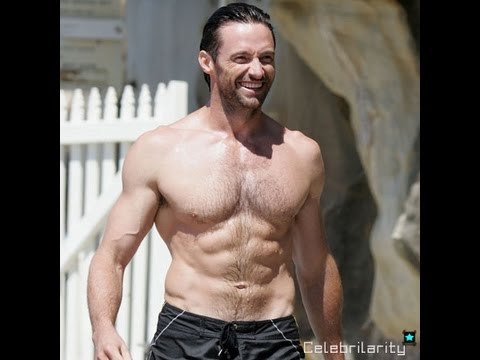 DAY 5
BARBELL DEADLIFT
-4 sets of 5 reps
ROMANIAN DEADLIFT
-4 sets of 10 reps
ZERCHER SQUATS
-4 sets of 12 reps
WEIGHTED SIT-UPS – WITH BANDS
-4 sets of 10 reps
LANDMINE LINEAR JAMMER
-4 sets of 20 reps
Take This Short Quiz to Find Out EXACTLY What You Need To Do To Get In Shape