Kryss DeSandre is a 22-year-old up and coming fitness star. The bikini competitor has been training seriously since 2015 after her physique was noticed by a trainer who insisted she begin competing. As Kryss recalls, "I was excited, but I didn't know where to begin. [the trainer] ended up training me, and the rest is history!"
The Utah native was always a competitor and athlete, growing up playing sports like track and basketball, as well as cheering throughout her life. It was not until she started working that she got back into the gym to regain her fitness peak, which she has certainly accomplished.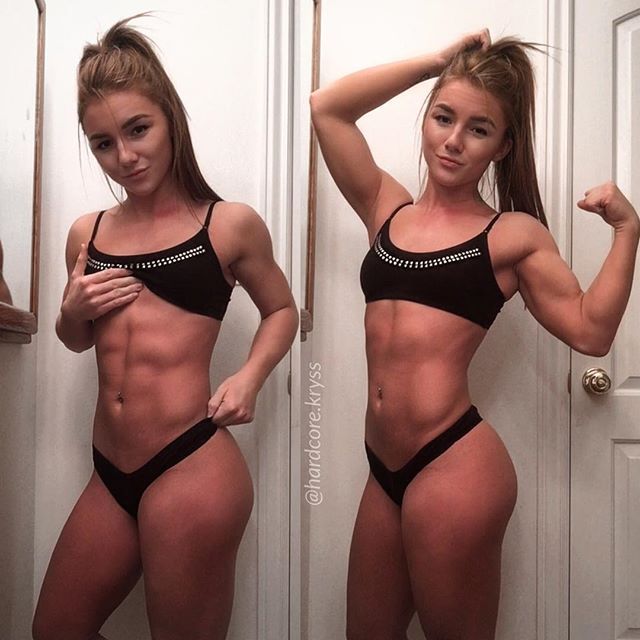 Here's how she stays in shape, and how you can too!
Monday: Off Day
-Rest day
Tuesday: Quads/Hams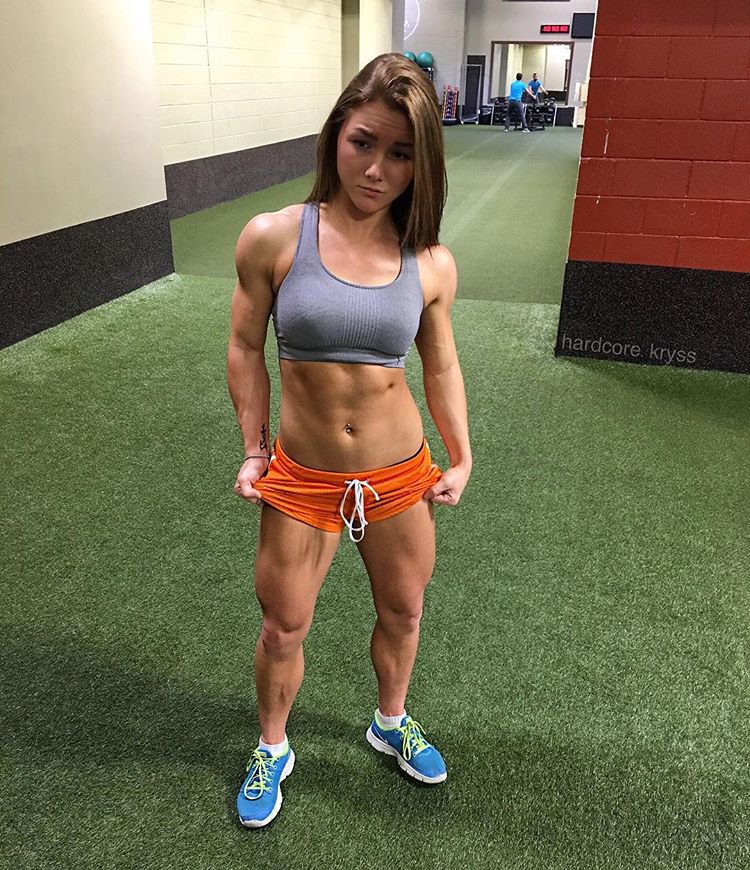 -Front Squats 5 x 10
-Wide Stance Leg Press 4 x 12
-Lying Leg Curls 5 x 10
-Bulgarian Split Squats 4 x 10 per leg
-Dumbbell Romanian Deadlifts 4 x 15
-Lying Leg Curls 2 x 20
Wednesday: Arms/Cardio Circuit
-Standing EZ-Bar Curls 5 x 12
-Cable Curls 5 x 12
-Preacher Curls 3 x 20
-Skull Crushers 5 x 12
-Overhead Dumbbell Extensions 4 x 15
-Bench Dips 3 x 25
-Tricep Pulldowns 10 x 10
-Cardio Circuit
-Kettlebell Swings 20 x 5
-Upright Rows 20 x 5
-Box Jumps 15 x 5
-Planks 45 Seconds x 5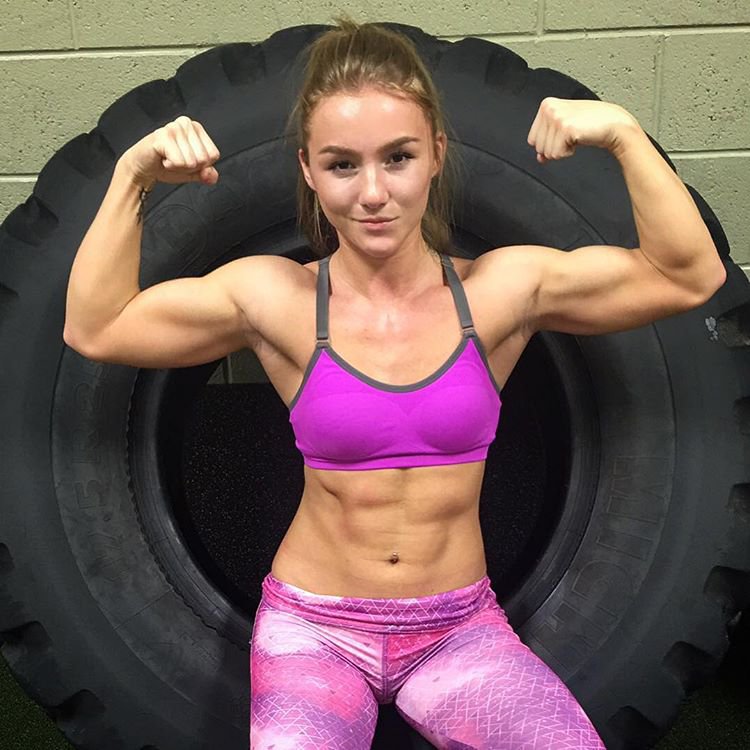 Thursday: Full body/Cardio
-Seated Machine Press 4 x 12
-Seated Cable Rows 4 x 12
-Reverse Pec Dec Fly's 4 x 20
-Close Grip Lat Pulldowns 4 x 18
-Side Lateral Raises 3 x 15
-Russian Twists 3 x 30 (Superset)
-Lying Leg Curls 5 x 20
-Treadmill Sprints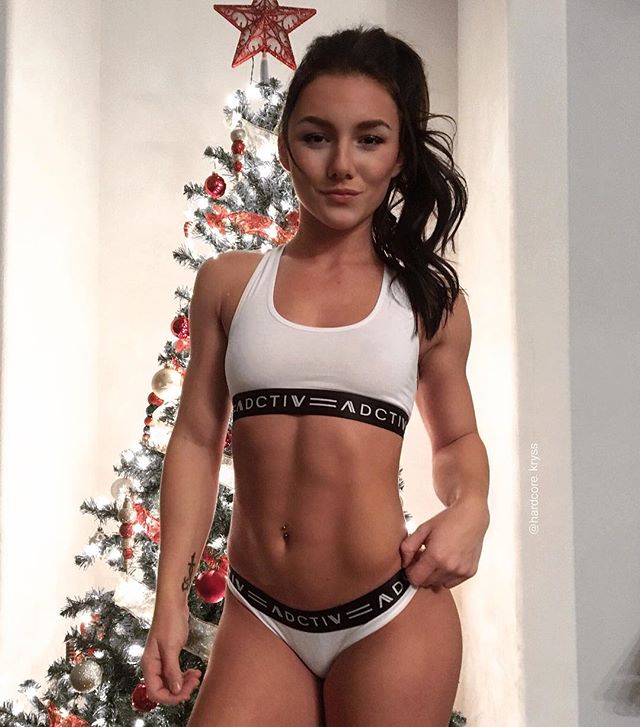 Friday: Quads
-Leg Press 8 x 15
-Box Squats 5 x 10
-Leg Extensions 6 x 20
-Close Stance Hack Squats 4 x 12
-Walking Lunges 3 x 15 per leg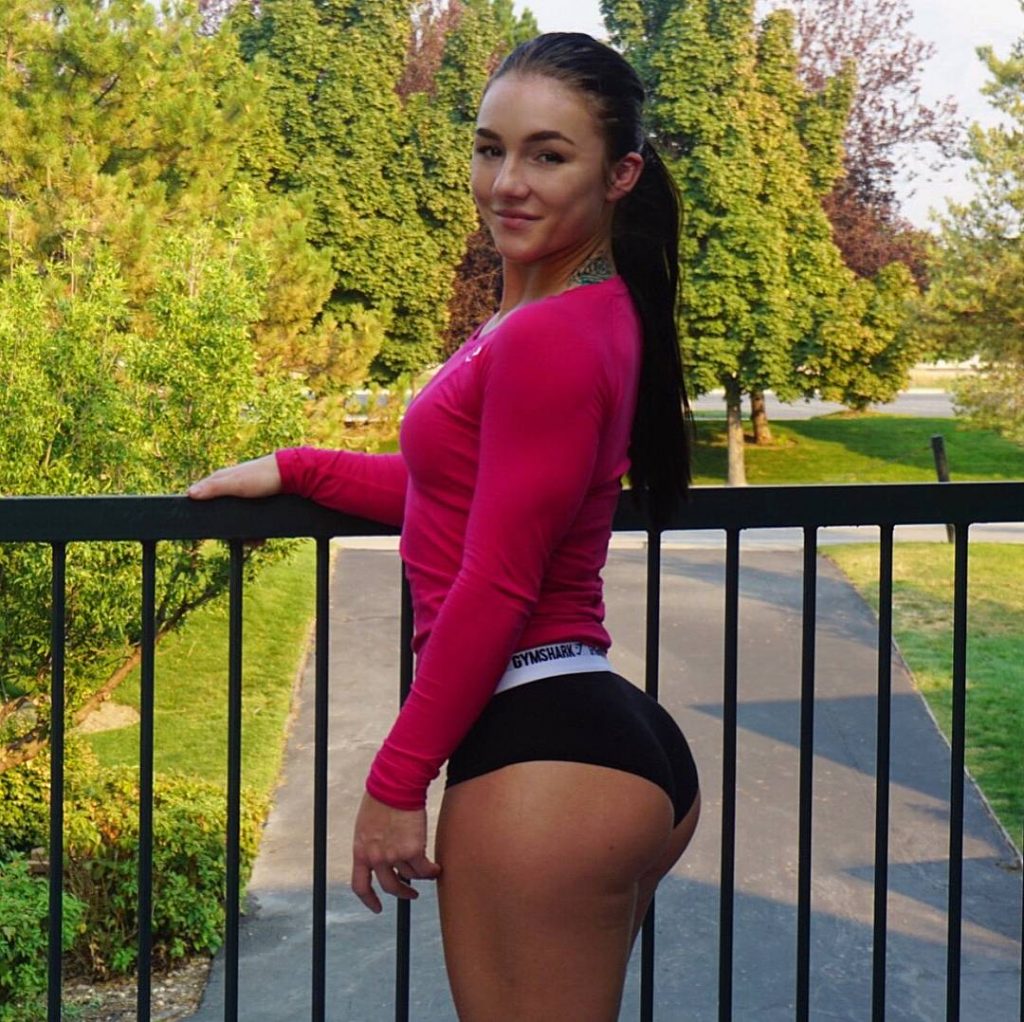 Saturday: Chest/Shoulders/Cardio Circuit
-Smith Machine Incline Press 5 x 12-15
-Machine Fly's 3 x 15 (Drop Set)
-Incline Push Ups 5 x 15
-Side Lateral Dumbbell Raises 4 x 10 (Superset)
-Front Dumbbell Raises 4 x 10
-Seated Dumbbell Shoulder Press 4 x 30
-Cardio Circuit
-Kettlebell Snatches 10 x 4 per arm
-Kettlebell Swings 20 x 4
-Burpees 10 x 4
-Planks 40 Seconds x 4
Sunday: Back/Shoulders/Cardio Circuit
-Wide Grip Lat Pulldowns 4 x 15
-Close Grip Lat Pulldowns 3 x 10
-High Rows 4 x 15
-Rear Delt Fly's 4 x 15
-One-Arm Dumbbell Rows 4 x 8
-Assisted Pull Ups 4 x 10
-Dumbbell Shrugs 5 x 20
-Standing Calf Raises 5 x 30
-Cardio Circuit
-Kettlebell Swings 20 x 3
-Box Jumps 15 x 3
-Renegade Rows 10 x 3 per arm
-Russian Twists 20 x 3 per side
Along with working out and staying active, eating right will secure your gains. Kryss offers her daily diet, as well as some advice for satisfying cravings, saying:
"When I find myself craving junk food like delicious French fries, I don't always cut myself off completely from having them because let's face it, that would be depressing. Instead, I am able to find healthier alternatives for what I am craving, and I will cook them at home.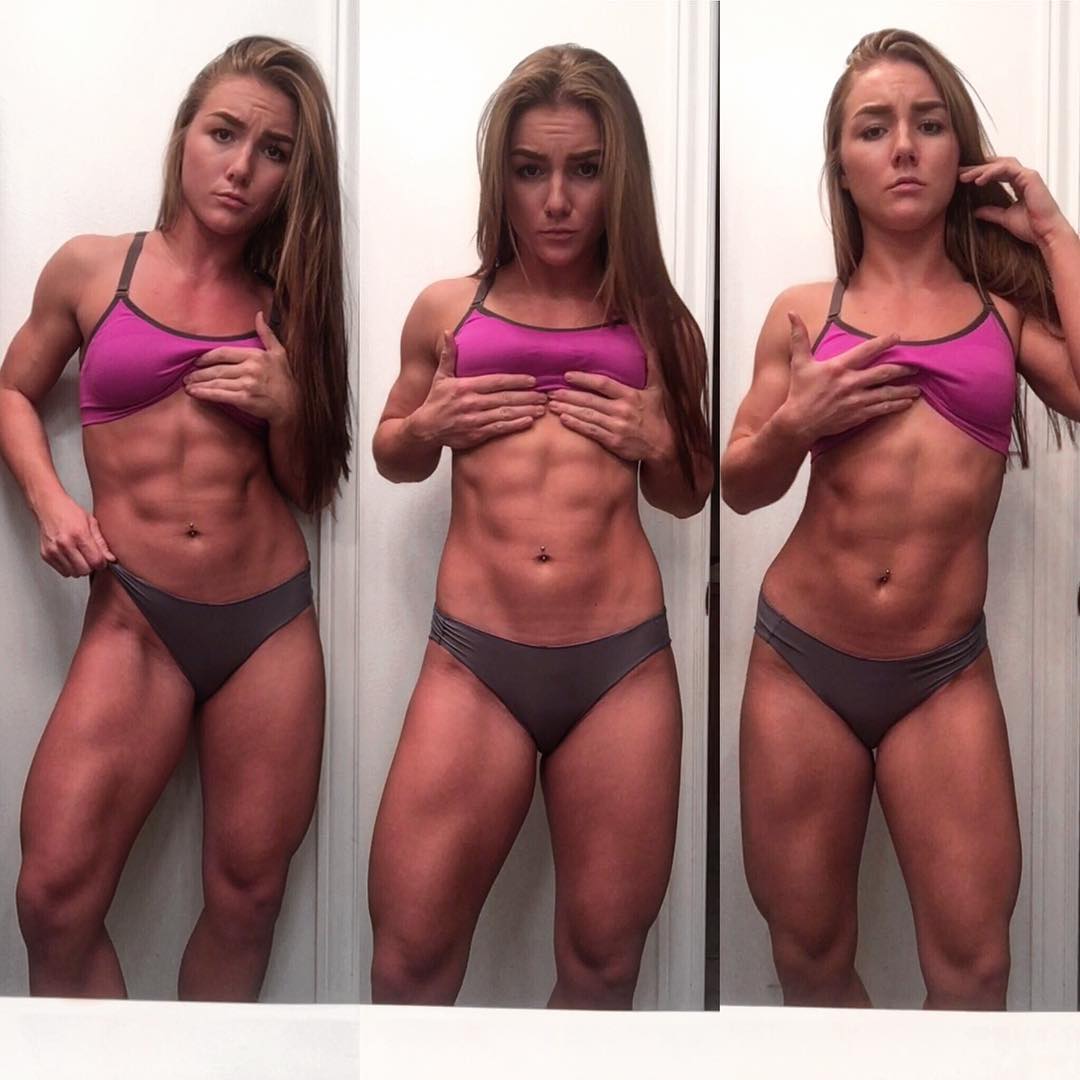 Daily Diet
-Meal 1: 1 Whole Egg, 3 Egg Whites, 1/3 cup Oatmeal, 1 tablespoon Organic Unrefined Coconut Oil, 1 tablespoon Honey and 1 tablespoon Brown Sugar
-Meal 2: 5 ounces Ground Turkey, ½ cup Brown Rice, 1 tablespoon Soy Sauce and 2 cups Cooked Broccoli
-Meal 3: 1 Banana, 3 tablespoons Almond Butter or 30 Almonds and ½ tablespoon Honey
-Meal 4: 1 Scoop Protein and 8-12 ounces Water
-Meal 5: 5 ounces Grilled Chicken, 2 tablespoons Almond Butter and 1/3 Avocado
-Meal 6: 5 ounces Salmon, 1 cup Mixed Green Vegetables and ½ Avocado
-Meal 7: 1 scoop Protein and 8-12 ounces Water
Need some motivation? Here's Kryss' favorite quote!
"I am the master of my fate, I am the captain of my soul." – William Ernest Henley
Want to reach your fitness goals faster?
Free eBook reveals the most effective cardio workouts and routines to get in shape and shed fat week by week!