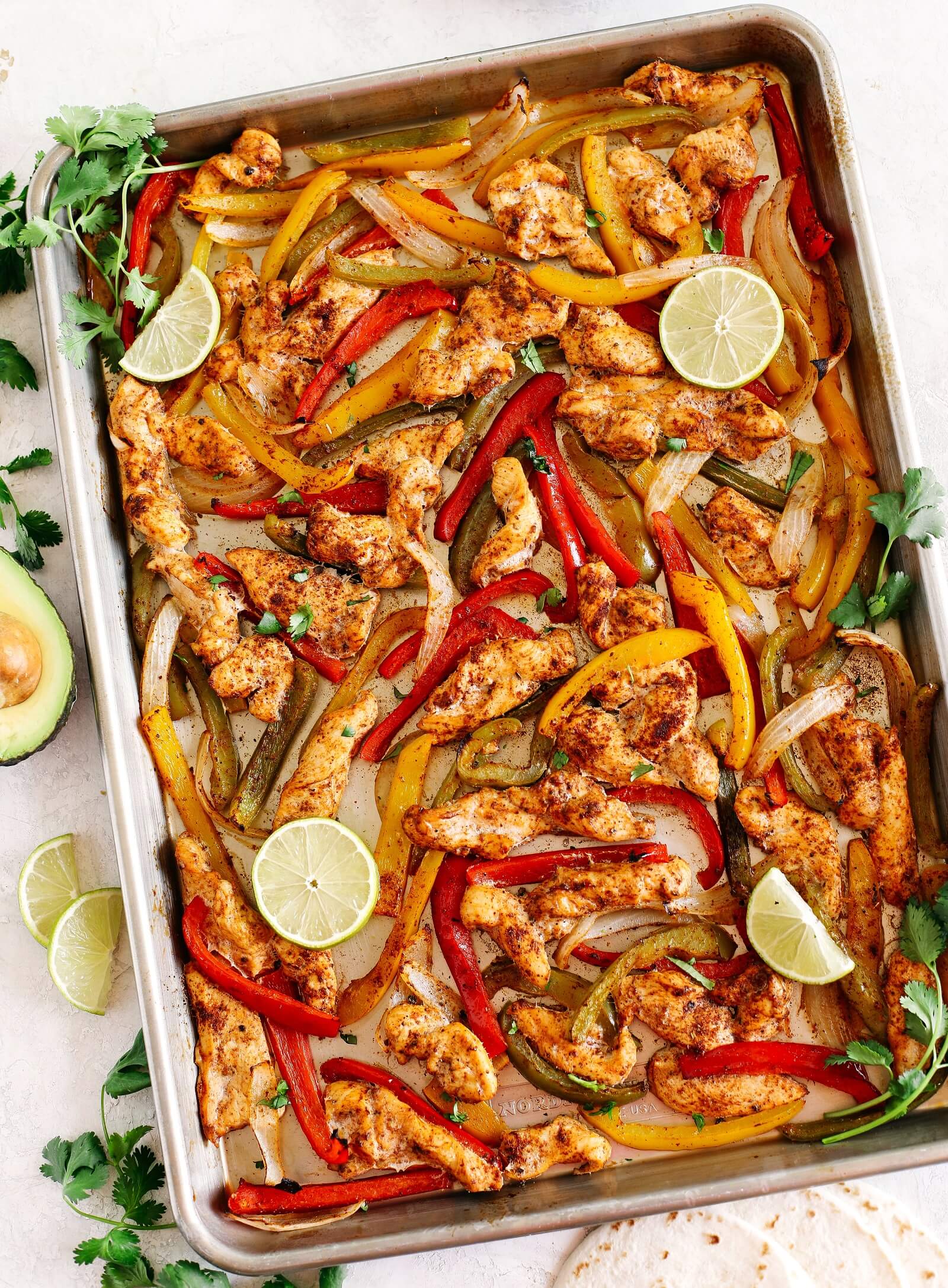 Ingredients
1½ lb boneless, skinless chicken breasts, cut into ½ inch strips
3 bell peppers, thinly sliced (I used red, yellow, green)
1 onion, thinly sliced
2 Tbsp olive oil
Salt and pepper, to taste
2 tsp chili powder
1 tsp cumin
1 tsp paprika
½ tsp garlic powder
½ tsp oregano
Juice of 1 lime
3 Tbsp chopped cilantro
Optional toppings: sour cream, avocado, shredded cheese, salsa
Directions
Preheat oven to 400 degrees F.
Spread chicken, peppers and onions on a baking sheet sprayed with some cooking spray, drizzle with olive oil and season with salt and pepper.
In a small bowl, combine chili powder, cumin, paprika, garlic powder and oregano. Sprinkle the spices evenly over the chicken and peppers, tossing to coat and spread out in a single layer on the baking sheet.
Bake in the oven for about 20 to 25 minutes, tossing halfway through, and continue cooking until veggies are tender and chicken is cooked through. (if you want some char on your veggies, remove chicken from baking sheet and pop veggies under the broiler for about 3 to 5 minutes until the edges start to char slightly.)
Drizzle with lime juice and sprinkle with fresh cilantro. Serve with lettuce cups or tortillas and desired toppings. Enjoy!
Want to reach your fitness goals faster?
Free eBook reveals the most effective cardio workouts and routines to get in shape and shed fat week by week!
Enter your best email below to get this free .pdf file sent instantly to your inbox.
Your information is 100% secure and safe from spam.