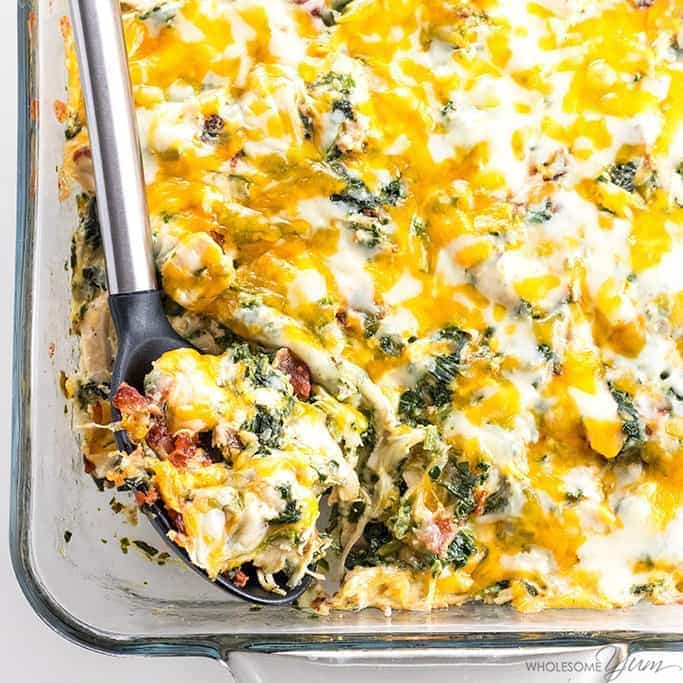 Ingredients
Chicken breast – either cubed baked chicken breast or shredded chicken
Bacon – cooked until crispy, either on the stove or bacon in the oven
Garlic – minced
Ranch dressing
Vegetables – fresh or frozen
Shredded cheese
Directions
Preheat the oven to 375 degrees F (191 degrees C). If using frozen spinach, thaw and squeeze to drain first. If using broccoli, place it into a pot of water and bring to a boil. Simmer for 1-2 minutes until bright green. Combine the chicken, bacon, drained spinach or broccoli, garlic, ranch dressing, and half of the shredded cheeses in a large bowl. Stir until well incorporated. Transfer to a 9x13 in (23x33 cm) glass or stoneware casserole dish. (Alternatively, you can mix everything directly in the casserole dish.) Top with remaining shredded mozzarella and cheddar cheeses. Bake for about 15 minutes, until hot and bubbly
Cook your broccoli or other veggies. If you're using frozen spinach, you don't even have to do that – just drain it.
Mix all the ingredients together in a large bowl, reserving half of the shredded cheeses.
Transfer your easy casserole mixture to a baking dish and top with the remaining cheese.
Baking time takes only about 15 minutes, just until the chicken bacon casserole is hot and bubbly. Viola! This will be one of your favorite low carb meals for a busy weeknight.
TIP: No matter what veggies you use, just cook and drain them first
, before adding them to your chicken bacon casserole mixture.
Want to reach your fitness goals faster?
Free book reveals the 2 incredibly simple steps everyone must follow to eat clean, get healthy, and shed fat week by week!
Your information is 100% secure and safe from spam.
Simply enter your best email above to get this free .pdf file sent instantly to your inbox.