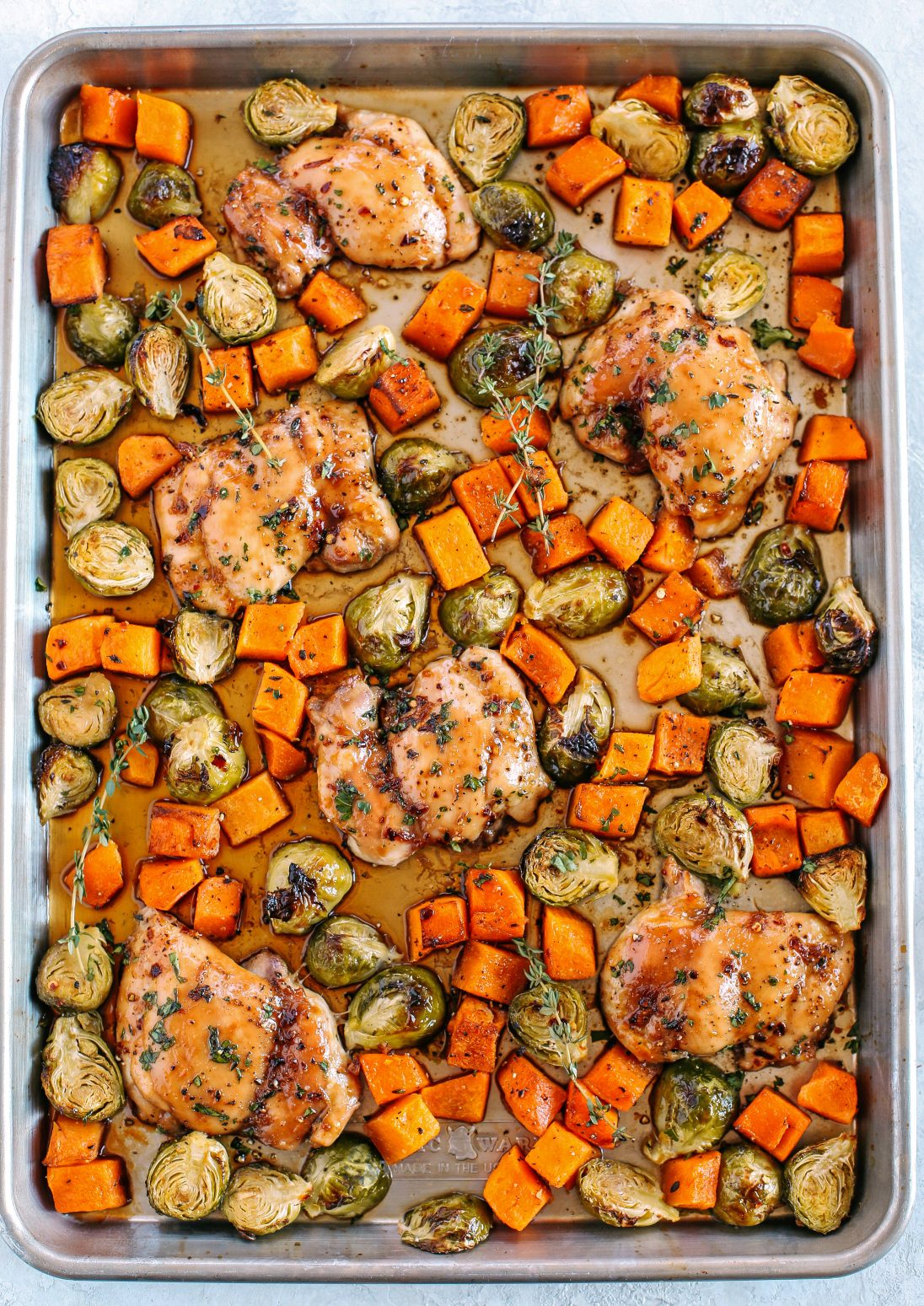 Ingredients
6 boneless, skinless chicken thighs
2 cups butternut squash, cubed
2 cups brussels sprouts, trimmed and halved lengthwise
½ large red onion, sliced
1 Tbsp olive oil
Salt and pepper, to taste
For the sauce:
3 Tbsp lower-sodium soy sauce (or tamari if gluten-free)
⅓ cup pure maple syrup
1 tsp. sesame oil
2 Tbsp grated ginger
¼ tsp. red pepper flakes1 tsp. fresh thyme
Directions
Preheat oven to 425 degrees F.
Add the squash, brussels sprouts and onion to a large sheet pan and toss with olive oil, mixing well.
Then place the chicken thighs on top of the veggies and season chicken and veggies with salt and pepper.
To make the sauce, whisk together all ingredients and brush sauce generously over each chicken thigh, reserving the rest for later.
Bake chicken and veggies for 25 to 30 minutes, or until the juices have run clear and veggies are nice and tender. Feel free to turn the broiler on for a few minutes if you like your veggies crispier!
Brush reserved marinade over top of the chicken and veggies, serve and enjoy!
Want to reach your fitness goals faster?
Free book reveals the 2 incredibly simple steps everyone must follow to eat clean, get healthy, and shed fat week by week!
Your information is 100% secure and safe from spam.
Simply enter your best email above to get this free .pdf file sent instantly to your inbox.