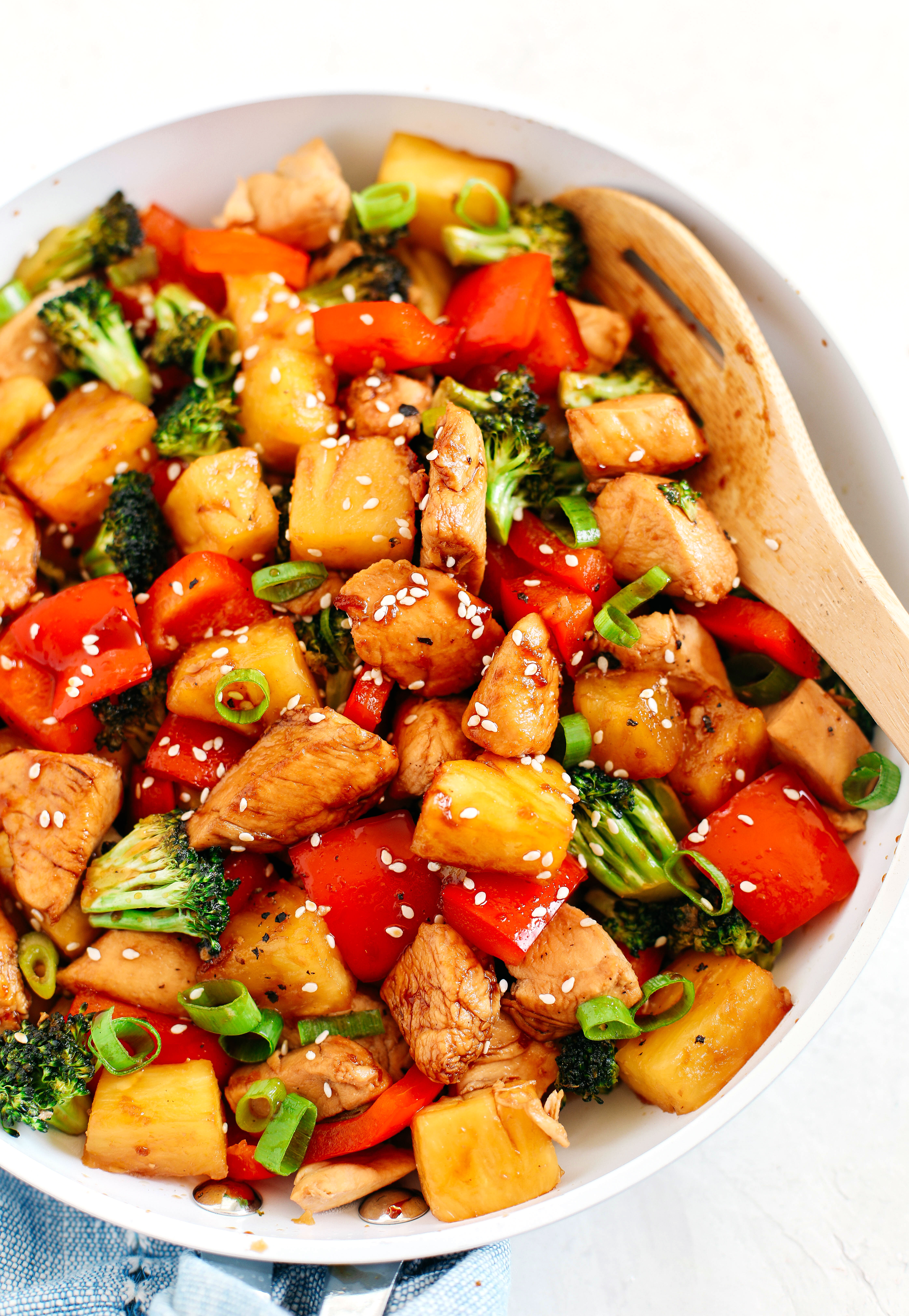 Ingredients
1 Tbsp olive oil
1 lb boneless, skinless chicken breasts, cut into 1-inch pieces
Salt and pepper, to taste
2 cloves garlic, minced
2 cups broccoli florets
1 red bell pepper, trimmed and cut into 1-inch pieces
2 cups fresh pineapple, cubed
Garnish (optional): green onions and sesame seeds
For the sauce:
¼ cup lower sodium soy sauce
¼ cup pineapple juice
1 tsp sesame oil
3 Tbsp honey
2 tsp fresh grated ginger
Directions
In a large skillet over medium heat, drizzle olive oil and add chicken. Season with salt and pepper and sauté until lightly browned, about 4 to 5 minutes. Add the garlic and sauté for about 30 seconds, mixing it with the chicken.
Add broccoli, bell pepper and pineapple, and cook an additional 5 minutes, until veggies are tender and chicken is cooked through.
In a small bowl, whisk together soy sauce, pineapple juice, sesame oil, honey and ginger. Add the sauce to the pan and bring to a simmer.
Sprinkle with green onions and sesame seeds, serve and enjoy!
Want to reach your fitness goals faster?
Free eBook reveals the most effective cardio workouts and routines to get in shape and shed fat week by week!
Enter your best email below to get this free .pdf file sent instantly to your inbox.
Your information is 100% secure and safe from spam.