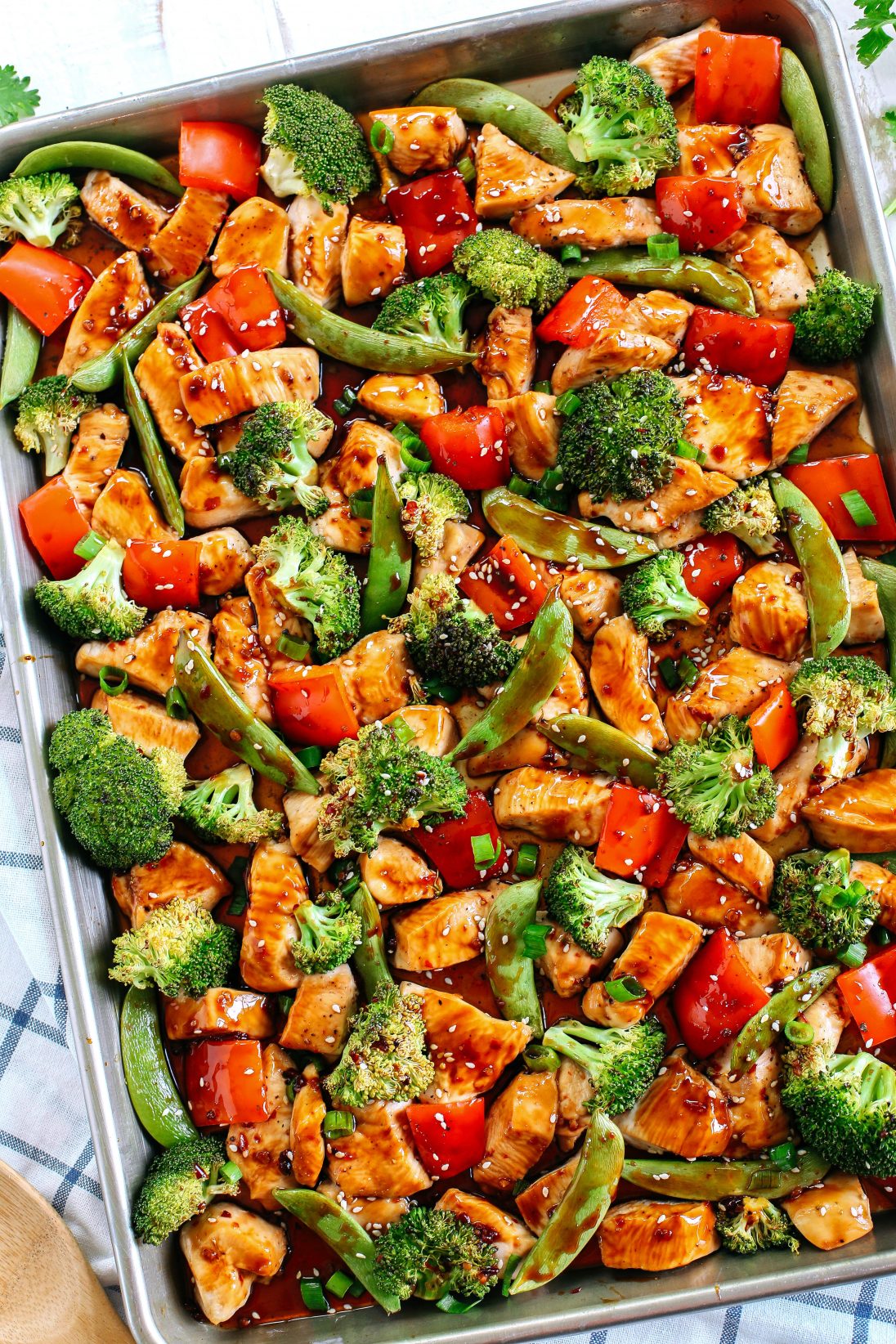 Ingredients
1 lb boneless skinless chicken breasts, cut into 1-inch pieces
1 large head of broccoli, chopped (about 2 cups)
2 medium red bell peppers, cut into chunks
1 cup snap peas
Salt and pepper, to taste
Optional toppings: sesame seeds and green onions
For the sauce:
¼ cup lower-sodium soy sauce
1 Tbsp sweet chili sauce
2 Tbsp honey
2 cloves garlic
1 tsp. fresh ginger
Directions
Preheat oven to 400 degrees F.
To make the sauce: In a small saucepan, heat soy sauce, sweet chili sauce, honey, garlic and ginger on medium heat and bring to a boil. Turn down heat and allow sauce to simmer, whisking occasionally, until sauce is thick and bubbly. Remove from heat.
Spread chicken and chopped veggies on a baking sheet sprayed with PAM cooking spray and season with salt and pepper. Drizzle half the sauce over the chicken and veggies (reserving the other half for later) and toss to combine. Bake in the oven for about 20 minutes, tossing halfway through, and continue cooking until veggies are tender and chicken is cooked through.
Drizzle remaining sauce over top and sprinkle with sesame seeds and green onions. Serve over brown rice or quinoa and enjoy!
Want to reach your fitness goals faster?
Free book reveals the 2 incredibly simple steps everyone must follow to eat clean, get healthy, and shed fat week by week!
Your information is 100% secure and safe from spam.
Simply enter your best email above to get this free .pdf file sent instantly to your inbox.