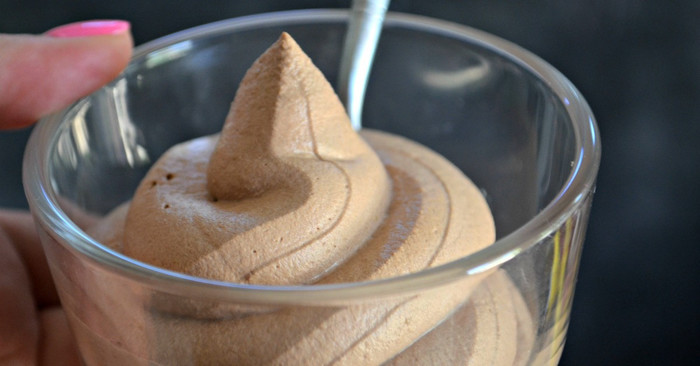 [et_pb_section admin_label="section"] [et_pb_row admin_label="row"] [et_pb_column type="4_4″][et_pb_text admin_label="Text"]
When craving for a sweet, healthy dessert, just try to make this Wendy's Inspired Chocolate Frosty. It's delicious, keto, low carb and addictive!!!
The best part of a Keto journey is the cold, sweet treats. Especially the ice cream.
If it didn't get you to feel sick, you'd eat ice cream for breakfast, lunch and dinner. You would even add a big spoonful of it in the morning coffee. Who doesn't love ice cream?
Sadly, ice cream is filled with sugar. Well, normally. But you stumbled upon something really amazing…
There is a low carb cold recipe of ice cream to try at home. It may be getting you a little skeptical at first (when you understand the ingredients, you'll understand what it is meant to be), but it far exceeded everybody's expectations! It was so tasty, you may eat all the 3 servings.
Just 5 ingredients for an amazing flavor and texture
If you are on a low carb diet, this will apparently be your unique personal dessert. It's not just simple, it's primarily really heaven.
Firstly, you need to know that you should have a nice, heavy beaten cream touch before putting it in the freezer, but already cold and chilly it has more of a soft-serve texture. It's so delicious!
The 5 ingredients for a low carb chocolate frosty recipe (3 servings)
1 cup heavy whipping cream
2 tbsp unsweetened cocoa powder
1 tbsp almond butter
1 tsp vanilla extract
5 drops liquid stevia (or sweetener of your choice)
Steps in preparing:
In a medium-size bowl, utilize a hand mixer to whip the thick cream for several minutes.
Combine the rest of the parts, and mix repeatedly until the mixture grows the texture of thick whipped cream or icing.
Store in the freezer for around 30 minutes or till it's the texture you like. Enjoy!
Recipe Inspiration: Hip2Keto
***In case you have a nut sensitivity, you can replace milk cheese for the almond butter, but some of the reviewers appeared to have problems with the texture.
[/et_pb_text][/et_pb_column] [/et_pb_row] [/et_pb_section]

https://shreddedacademy.com/blog/wp-content/uploads/2019/07/keto-wendys-frosty_700x366.jpg
366
700
Scott Helm
https://shreddedacademy.com/wp-content/uploads/2019/05/sa-logo-b.png
Scott Helm
2019-07-30 04:53:25
2019-08-23 22:55:12
Simple Keto Chocolate Frosty